Blessed Michael McGivney Award
for significant short-or medium-term service to Church, Community, Family, or the Knights of Columbus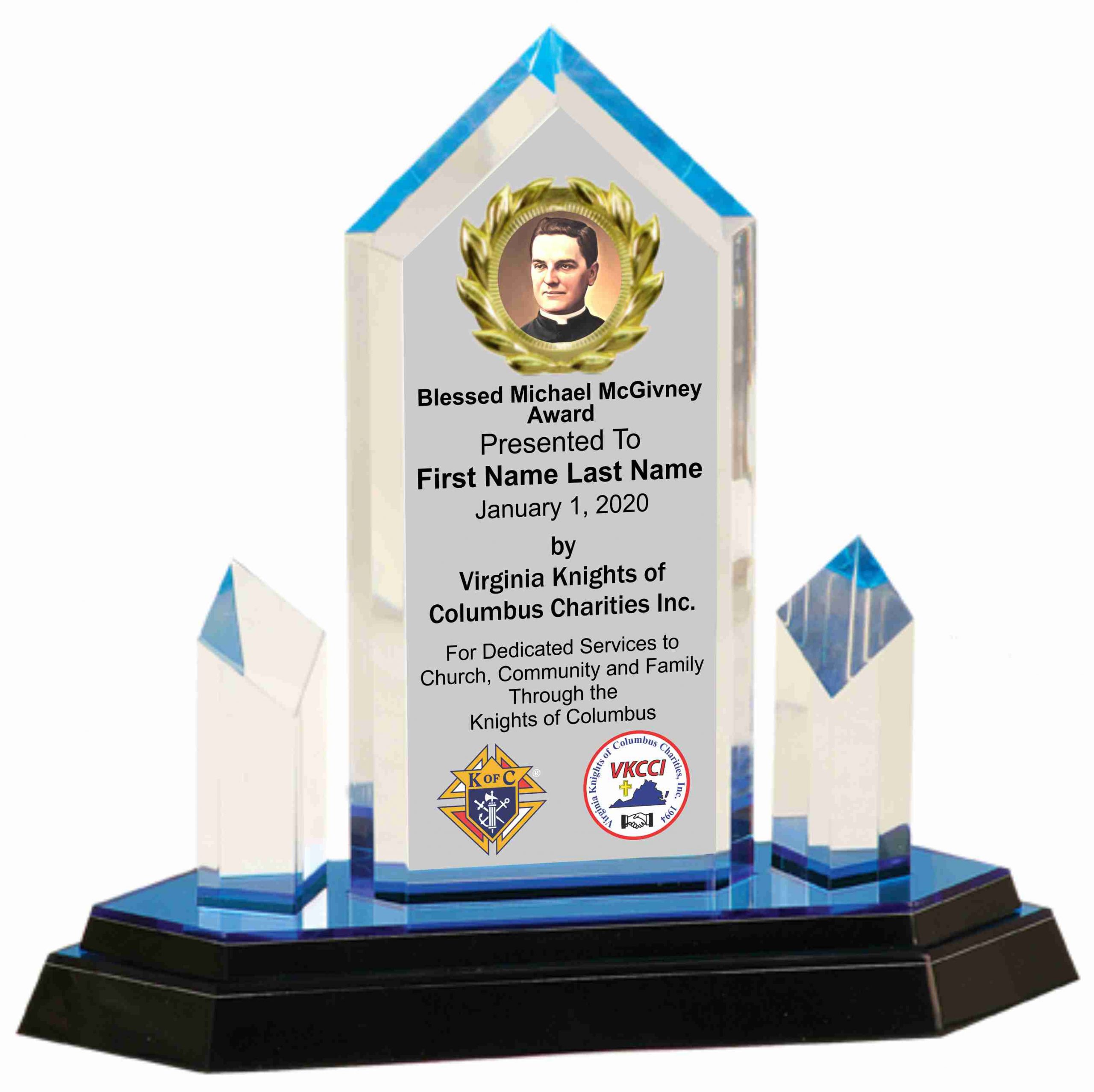 The VKCCI Board of Directors obtained final approval from the Supreme Council in May 2021 to establish the Blessed Michael McGivney Award. The award is intended to give Councils and Assemblies the opportunity to honor in a special way, members, member families, individuals, non-member families, and organizations who have demonstrated the first principle of our Order – Charity – charitable service to their Church, Community, Family, Council, Assembly, or the Virginia Knights of Columbus. The award is provided through $300 donations from Councils and Assemblies to recognize successfully nominated awardees that have made significant short-or medium-term contributions to their Church, Community, Family, or their Council or Assembly. Nominations can be made at any time and will be recognized with the Award—a blue highlighted acrylic memento with the image of our Founder, Fr. Michael J. McGivney, now Blessed, appropriately engraved with the name and accomplishments of the awardee.
Past Blessed Michael McGivney Award Recipients
Honoring an Individual, Family, or Organization:
Do you have members and families of your Council or Assembly or know of non-member individual and families or organizations that have done things that demonstrate extraordinary Charity because they love to do it and never ask for anything in return?  Would you like to pay a special tribute to that person, family, or organization and at the same time support VKCCI?  The Knights, families of a Knight, other individuals and families, or organizations to be recognized must have made a significant short-or medium-term charitable commitment to their Church, Community, Family, or the Knights of Columbus.  Nominations can be made at any time and will be recognized with the Blessed Michael McGivney Award.
Possible Examples:  Outstanding performance by a member during his tenure in office (Chaplain, PGK, PFN, or FS) or multi-year chairmanship of an event.  A member's "retirement" from "active Council or Assembly duty" due to health or relocation.  Questions about potential eligibility may be referred to the VKCCI President
What to do:
Contact any member of the VKCCI Board of Directors or your District Deputy and ask for the Blessed Michael McGivney Award application form (or download it from the VKCCI web page).  Simply follow the instructions and mail the form with a check in the amount of $300, made out to VKCCI, to the VKCCI President:
Isaias "Cy" Alba
President, VKCCI
9310 Brian Run Lane
Springfield, VA 22153
(571) 215-1233
Depending on the timing, your Council or Assembly will be recognized at a State Council Meeting as participating in the program.  An engraved Blessed Michael McGivney Award in the name of your Honoree will be presented to the Grand Knight or Faithful Navigator for presentation at the appropriate time.  If the award is to be presented at a certain date, special arrangements for delivery can be made.